[MSI, Russia] IgroMir 2015, the annual exhibition of computer and video games in Russia, took place from October 1st to 4th in Moscow. The world leader in gaming hardware, MSI joined the gaming festival and embraced thousands of visitors. Throughout the event, literally everyone found something to enjoy, whether on the latest Skylake gaming laptops or purpose-built PCs based on MSI's top-notch motherboards.
Some dived right into games with Witcher 3 or Warface while others decided to take a shot at Gaijin's new post-apocalyptic game Crossout on compact MSI Nightblade PCs. Besides, certainly popular at the event were two Oculus Rift headgears that were hooked up to a GAMING AIO and a Z170A GAMING PRO Skylake-based PC courtesy of MSI and HyperPC.
Few managed to walk past the GT72 laptop outfitted with the new Tobii Eye Tracking technology. Visitors eagerly explored the ability to interact with the system and play games using nothing but the movement of their eyes. MSI has not only introduced enhanced MSI exclusive technologies, but also launched several powerful and cool new gaming features on new gaming notebooks to fully unleash the revolutionary computing power of this new Intel Skylake architecture platform. One can't talk about the MSI stand without mentioning the magnum opus of a PC constructed by MSI in cooperation with the mad scientists at Invasion Labs. The base of this build was MSI's flagship X99A GODLIKE GAMING motherboard fitted with not one but two GTX 980 Ti GAMING 6G graphics cards in a 2-way SLI configuration.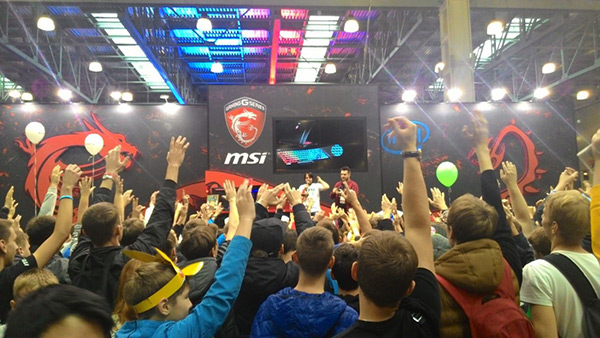 On October 4th we found out the results of League of Legends matches played between local university teams throughout the days of the exhibition. Congratulations to the winning team from the Moscow State Technological University "Stankin", with all players now owning their very own MSI GTX 960 GAMING 2G graphics cards. As for the best player as determined by four days of heated struggle, the skilled gamer earned an MSI GAMING laptop.
The media loved the MSI stand as well! GoHa.ru gave MSI the "Best Hardware of IgroMir 2015" award and Navigator of The Gaming World magazine gave MSI the "Best Graphics" award!
Some of the best photos from the exhibition can be found here:
http://vk.cc/4h1GDf