News
2018 IESF ft. MSI Grand Opening in Kaohsiung
Over 500 players and 50 countries fight for the glory!
Latest Update: Thu, 01 Nov 2018
[Taipei, Taiwan] International eSports Federation (IESF) has over billions of attention around the world. IESF has the name of the eSport Olympic. The 10th IESF will be held in Kaohsiung Arena, Taiwan, in November. This is the very first time for Taiwan to host an internation eSports competition. This year the host has invited several well-known pop singers to impress all the eSports fans in order to build the carnival event. 2018 International eSports Federation (IESF) in Kaohsiung is a perfect chance for Taiwan eSports industry and phenomenal gaming brand MSI together to welcome eSports fans around the world for the incredible shows and witness the top world-class players in competitions to make history.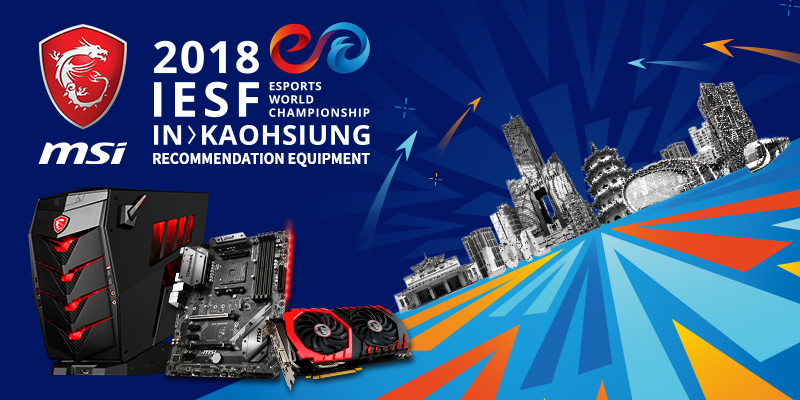 Spotlight on 2018 IESF stage, matches of Counter Strike(CS:GO), League of Legend(LOL) and Tekken 7 are about to break out. MSI has already stand by with pro-players and fans to join the battlefield. "MSI is the Top True Gaming brand in the world. Featuring outstanding performance and stability, the MSI GAMING Series catch gamers' desire deeply for victory in every competition. Many elite pro-eSports teams recommend MSI GAMING hardware the NO.1 choice on hardcore training that brings out players the best performance," says Sam Chern, MSI Global Marketing Asssistant Vice President.
MSI GAMING:
https://www.msi.com/
MSI Facebook:
https://www.facebook.com/MSIGaming
MSI Twitter:
https://twitter.com/msitweets
MSI YouTube:
https://www.youtube.com/user/MSIGamingGlobal
MSI Instagram:
https://www.instagram.com/msigaming/