[MSI, HQ] Furthering its efforts as one of the world's top gaming brands, MSI joins forces with SteelSeries and EIZO at Japan's annual Tokyo Game Show to bring visitors a devastating army of gaming hardware, eye-opening gaming experiences, exciting matches and more. A trade fair and convention for video games, Tokyo Game Show 2015 runs through September 17-20 at the Makuhari Messe convention center in Chiba, where officials expect an estimated 220,000 visitors from across the globe. Eric Kuo, MSI Vice President of Global Sales & Marketing, talks about attending this event, "As an active participant in worldwide gaming events, we keep presenting the world with top advances in gaming tech that we've spearheaded for years. At TGS 2015, our collaboration with SteelSeries and EIZO will definitely bring game lovers so much more. Get ready to be amazed!"
Over the course of four days, the first two days (September 17-18) will be Business Days restricted to business visitors and members of the press. There will be announcements from MSI on Business Days. The icing on the cake, our online events will be giving away awesome prizes from MSI, SteelSeries, EIZO and G2A. Be sure to follow MSI, SteelSeries, EIZO and G2A on Twitter and get online codes for a chance to win big at our daily lucky draw!
CS:GO, AVA, DeToNator, Japan DOTA Cup…So much excitement!
Tokyo Game Show 2015 allows the general public to attend during September 19-20 and that's exactly when our free-to-play area will welcome game lovers and all visitors. Awesome MSI GAMING rigs are all set for gamers to show off their skills in world-renowned, adrenaline-pumping action games Counter-Strike: Global Offensive (CS:GO) and Alliance of Valiant Arms (AVA). In the meanwhile, players' gameplay will be streamed live over the Internet through MSI official Twitch.tv (
http://www.twitch.tv/msigamingasia
).
To spice up the event, there will be CS:GO Shootout Invitational on September 19 and AVA Shootout Invitational on September 20, both featuring Japan's eSports big name DeToNator. Another highlight on September 19 is the CS:GO exhibition game by DeToNator. The most exciting of all, Japan DOTA Cup will have its Final concluded at the MSI booth on September 20. Professional eSports teams will use top-notch MSI GAMING rigs to compete for championship. Come see the nail-biting competitions at the MSI booth!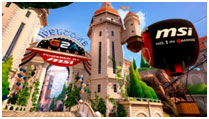 Come experience MSI & G2A VR Game!
Want to experience a simulated three-dimensional world and get deeply immersed in video games? The VR Game Experience Zone at G2A Land is undoubtedly the right place to go! Powered by top-rated MSI GAMING motherboards and graphics cards, the MSI and G2A co-produced VR project "ROLLERCOASTER" will completely immerse you inside the virtual world and give you one-of-a-kind virtual reality experience. Better yet, visitors are invited to join our "Shooting Challenge" to take home some awesome prizes. Be part of our show!
MSI GAMING rigs on display in full splendor
At TGS 2015, MSI prepares a diverse array of lethal weapons for game lovers as well as gaming enthusiasts looking to make a splash in the eSports scene. Highlights from the announced lineup include laptops, graphics cards and motherboards, all from MSI's universally popular GAMING series.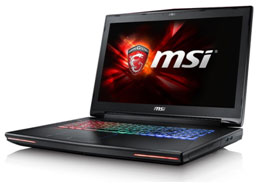 GT72S Dominator Pro G, THE SKY'S THE LIMIT for Gamers
MSI GT72 incorporates the latest 6th Gen Intel® Core™ processors and is equipped with Windows 10 and game-changing DirectX 12 graphics. The GT72 series is topped with an NVIDIA® GeForce GTX 980M graphics card with G-SYNC technology.
With the latest Super RAID 4 supporting up to 3300MB/s storage, gamers could load any game in seconds. The best SteelSeries multi backlit keyboard with SSE 3 software could make gamers play with best feedback, even set up macro keys to boost up your in game attack. Sound by Dynaudio brings the most detailed sound for any kind of entertainment. ESS SABRE HiFi supports High-Res. audio quality for any high level headsets. Combined with Nahimic software, the GT72 delivers crystal clear surround sound for both built-in speakers and external headsets. Killer Doubleshot Pro protects and prioritizes networking traffic for faster and smoother online gaming experience.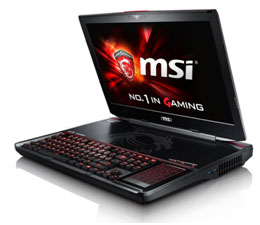 GT80, the Ultimate Gaming Beast with World's 1st Mechanical Keyboard for Enthusiasts
MSI GT80 Titan features 5th Gen Intel® Core i7 processor, up to Dual NVIDIA® GeForce GTX 980M SLI graphics and is the world's first gaming laptop to integrate a mechanical keyboard featuring Cherry MX switches. With SteelSeries design, the keyboard comes with SteelSeries Engine for multi virtual keyboards and lots of macro keys setup features for pro-gamers to win their games in a second faster.
Other news for the GT80 is Super RAID 3, Sound by Dynaudio, Audio Boost 2 and Nahimic surround system for best listening experience. For display, it's capable of running three external 4K resolution monitors, or with up to 7680x1080 pixels Surround mode for maximum game immersion. Killer DoubleShot Pro prevents lag spikes so gamers can game without fear and play at their best.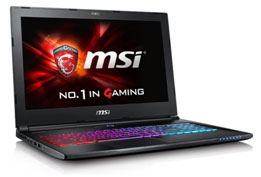 GS60 & GS70, Incredible Power in Ultra-Slim Design
Designed for high mobility gamers or power users, the GS60 Ghost and GS70 Stealth gaming laptops deliver new generation NVIDIA® GeForce GTX 960M/970M Graphics, and blazing fast performance with 6th Gen Intel® Core i7 processor and Killer Doublesuot Gaming Networking. Offering high gaming performance in an incredibly thin and light package, the GS60 and GS70 pack a variety of cutting-edge features, including SteelSeries multi backlit gaming keyboard with Steelseries Engine, powerful customization options with Super RAID or PCI-E Gen. 3 SSD, Sound by Dynaudio system with Nahimic Sound enhancement, the best-in-industry Cooler Boost 3 which could handle highest performance boost with such slim design than any other competitors.
MSI Graphics Cards, Supreme Silence, Supreme Performance.
Looking for something that will bring your gaming experience to the next level? Visit our booth and experience the latest high-end products, including the GTX 980Ti Lightining from legendary flagship OC series and R9 390X GAMING 8G from renowned GAMING series. Designed to be perfect, you will be amazed by the brilliant performance they can deliver! Besides, you'll also be updated with our first-hand news and the latest technology development. About the new product to be launched, GTX 980Ti SEA HAWK combines both water-cooling and air-cooling solutions, representing the unprecedented partnership of MSI and Corsair. And what's more? Just come and you will know! See you there!
| | |
| --- | --- |
| GTX 980Ti Lightning | R9 390X GAMING |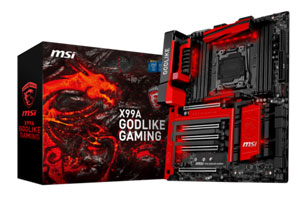 X99A GODLIKE GAMING, One Board to Rule All
MSI X99A GODLIKE GAMING is world's first RGB LED motherboard and employs the latest Audio Boost 3 PRO technology to deliver crystal clear sound quality and lossless audio compression. The X99A GODLIKE GAMING also adopts the latest Killer DoubleShot-X3 PRO. Smart teaming with two Killer Ethernet chips and Killer 1535 Wi-Fi module, X99A GODLIKE GAMING can provide up to 2.867Gbps of network bandwidth for hardcore gamers.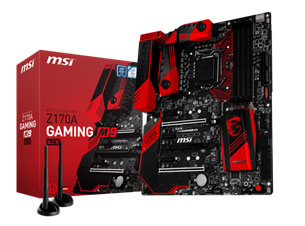 Z170A GAMING M9 ACK, the Perfect Weapon to Master All Levels of Gaming
The Z170A Gaming M9 ACK is the tippy-top of the new MSI Enthusiast GAMING Series motherboards, featuring Killer™ DoubleShot Pro and Xtreme Audio DAC. Killer™ DoubleShot Pro allows the Killer™ Ethernet connectors and the Killer™ Wi-Fi adapter to work together for ultimate high speed attack. Xtreme Audio DAC, Nahimic Sound Technology and other high quality audio components bring players breathtaking, crystal clear sound and help them dominate the game.
MSI at Tokyo Game Show 2015
Date: September 17th ~ 20th, 2015
Venue: Makuhari Messe, Mihama-ku, Chiba City, Chiba Prefecture, Japan
Booth: Hall 8-8-C05
29 years of MSI innovation
MSI is turning 29 this year and is celebrating its anniversary with a variety of exciting events.
As a leading brand in gaming industry, MSI was founded 29 years ago. For the past decades, MSI has achieved a global footprint with sales in over 120 countries and has been recognized with over 10,000 awards from 350 global media. At the core of MSI's innovation remains an unwavering commitment to provide Top Player with Top Choice products. Apart from its partnership with 12 pro-gaming teams around the world, MSI is also an active participant in international gaming tournaments and the host of MSI Masters Gaming Arena (MGA), a world-renowned gaming event. Unanimously acclaimed by gaming enthusiasts and eSports players around the world, MSI is proudly the world's top gaming brand! Starting in July and running through the coming months, all kinds of celebration events are providing worldwide MSI fans with great opportunities to win awesome prizes and lots of fun in the process. Join us in celebrating the next great era of MSI!
MSI Japan Twitter:
https://twitter.com/msicomputerjp
MSI Twitch:
http://www.twitch.tv/msigamingASIA
MSI GAMING Products:
http://gaming.msi.com
MSI Facebook:
https://www.facebook.com/MSIHQFANCLUB
MSI Twitter:
https://twitter.com/msitweets
MSI 29th Anniversary event website:
http://event.msi.com/2015/29th