[MSI, HQ] MSI, the world's leading gaming brand, announces today its presence at ChinaJoy 2015, where it will join forces with Blizzard Entertainment and NVIDIA to showcase the stunningly powerful performance of its widely acclaimed GAMING series products. China's biggest annual festival of the digital entertainment industry, ChinaJoy 2015 will take place at Shanghai New International Expo Centre (SNIEC) from July 30 to August 2. Eric Kuo, MSI Vice President of Global Sales & Marketing, announces, "MSI has been dedicated to crafting first-rate gaming hardware and is thrilled to roll into ChinaJoy 2015 with an innovative lineup of gaming products. This year, we team up with gaming giant Blizzard Entertainment and visual computing pioneer NVIDIA to unveil a new chapter in gaming. Visitors are guaranteed the most awe-inspiring gaming experiences ever!"


"Easy for Fun" is the name of the game for ChinaJoy 2015
ChinaJoy 2015 is reportedly to attract over 700 exhibitors, among whom 200 are well-known exhibitors or industry giants from 20 countries and regions. Visitors are expected to hit a record high of more than 300,000. Mobile games, online PC games, console games, gaming hardware and all the latest and greatest in digital entertainment technology will be highlights of the exposition. "Easy for Fun", the slogan for ChinaJoy 2015, is a reminder of the major changes in the Chinese game industry in the past decade and the overall simplification of how we access games and gain happiness from gaming in more efficient and convenient ways.


Awesome MSI GAMING hardware meets epic Blizzard Entertainment games
Right after MSI MGA 2015 kicked off in June, MSI once again joins hands with Blizzard Entertainment to offer visitors captivating, mind-blowing gaming experiences at ChinaJoy 2015. Visitors at the Blizzard booth will have the chance to play Blizzard's World of Warcraft®, Hearthstone®, Heroes of the Storm™ and Diablo® III on the top-notch MSI Nightblade systems that integrate high performance Z97I GAMING motherboards and GTX 970 GAMING 4G graphics cards. Blizzard will also be giving away its ChinaJoy 2015 grand prize, the MSI GE72 gaming laptops that feature leading-edge Nahimic Sound Technology, throughout the event. Be sure to visit the Blizzard booth in Hall N5, Booth 09. Don't miss out on your chance to win an awesome, feature-packed gaming machine!


Breath-taking MSI Blizzard gaming laptops unveiled
Another highlight at the Blizzard booth will be the unveiling of the customized MSI Blizzard gaming laptops. MSI, the world's leading gaming brand, and Blizzard Entertainment, the world renowned game developer and publisher, will jointly introduce Heroes of the Storm™-themed gaming laptops at ChinaJoy 2015.


The Heroes-themed gaming laptops are perfectly tailored with high-end hardware for Blizzard games to run on and incorporate all the powerful components and gaming technologies to ensure stellar performance. Most amazingly, the laptops come with dazzling, overwhelming Blizzard Heroes-themed chassis design that will catch everyone's eyes for sure. Astonishing power in domineering frames, the customized MSI Blizzard gaming laptops are undoubtedly the dream machines for all gamers!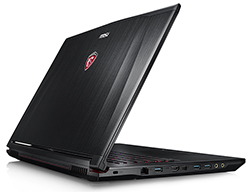 MSI GE72, Stunning Audio Visual and Desktop-class Gaming Performance
Adding a touch of style with its brushed aluminum finish, MSI GE72 gaming laptop comes with Intel® Core i7 processor, NVIDIA® GeForce GTX 900-series graphics card and a rich array of gaming features, including Dynaudio sound system, Nahimic sound technology, SteelSeries backlit gaming keyboard, Matrix Display technology, Killer Game Networking, XSplit Gamecaster and Cooler Boost 3 dual cooling system. Packing desktop-class gaming performance, the GE72 is born to meet gamers' every need.
Nightblade , Powerful Performance in Compact Design
MSI new Gaming Desktop PCs are equipped with unrelenting tools of efficiency, power and cooling. Nightblade series embodies what every gamer craves for victory. The brand new MSI Nightblade is compact in design and packs the latest Intel® Core i7 processor and NVIDIA® GeForce GTX 900-series graphics card. Along with efficient cooling solution and premium audio technology, the Nightblade is ready to handle any blockbuster PC games at high and ultra-settings. Meet the most powerful gaming weapon Nightblade!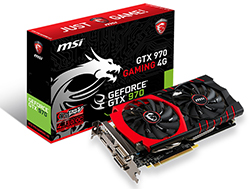 MSI GTX 970 GAMING 4G: Cooler, Quieter, Better
MSI GTX 970 GAMING 4G is powered by the renowned Twin Frozr V cooler, which features a premium LED illuminated MSI GAMING Dragon that can be controlled by a new feature on the exclusive MSI Gaming App. The MSI Gaming App provides five unique animation effects and Scenamax technology to reduce strain on the user's eyes. With unmatched performance and an impressive host of features, the latest MSI GAMING series graphics cards have redefined the ultimate GAMING experience.
Z97I GAMING AC, Engineered for High-Performance Gaming
MSI Z97I GAMING AC motherboard is designed to provide gamers with best-in-class features and technology. The built-in Audio Boost 2 solution is powered by Creative Sound Blaster Cinema 2 and delivers the highest audio quality to ensure the best in-game sound ever. The Killer™ E2200 Intelligent Networking Platform is integrated to provide maximum performance for online games and high-quality audio and video streaming. Coupled with the imposing looks of MSI's Dragon, the Z97I GAMING AC is an engineering masterpiece tailored to gaming perfection.
MSI and NVIDIA to impress visitors with stunning graphics
MSI and NVIDIA have been long-term partners in the quest for industry-leading graphics solutions and the best gaming experience. Earlier this year, MSI proudly celebrated the grand milestone of selling over 100 million NVIDIA GPU based graphics cards. The number 100 million indicates the amazingly huge number of PC users who have chosen MSI NVIDIA-based graphics cards around the world!
Following the achievement, MSI and NVIDIA join hands again, determined to impress both casual and enthusiastic gamers with visual awe and striking performance at ChinaJoy 2015. Be sure to join us at the NVIDIA booth in Hall E7, Booth 09-1 to go hands-on with MSI's most advanced GAMING lineup driven by gamer-inspired, future-ready technology!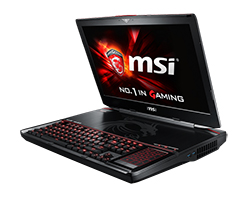 GT80, the Ultimate Gaming Beast with SLI Graphics to Play Surround View
MSI GT80 Titan features the latest Intel® Core i7 processor, up to NVIDIA® GeForce GTX 980M graphics and is the world's first gaming laptop to integrate a mechanical keyboard. Joint engineering and software development between MSI and SteelSeries promise ultimate comfort for long gaming sessions while switches from mechanical switch specialist Cherry guarantee long-time reliability.
The GT80 is also the best SLI platform to support very smooth surround view with a maximum resolution of 5760x1080 for extreme gaming experience.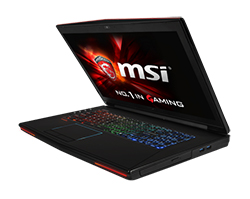 GT72, Powerful Machine That Features NVIDIA G-SYNC
MSI GT72 incorporates GTX 980M 8GB GDDR5 graphics with easy replacement design for upgrade to the latest graphics in 2015. The GT72 also features MSI Super RAID 3 technology to give gamers stunning disk read/write speeds of 1600MB/s and above, with up to four M.2 SSDs in RAID0.
MSI also launched an upgrade version of GT72 with G-SYNC feature: the MSI GT72-G. G-SYNC's revolutionary performance is achieved by synchronizing display refresh rates to the GPU in the GeForce GTX-powered system, eliminating screen tearing and minimizing display stutter and input lag. The results are instantly appearing scenes, sharper looking objects and super smooth gameplay. GT72 that packs powerful NVIDIA® G-SYNC technology will give gamers a stunning visual experience and a serious competitive edge.

Meet the World's Thinnest and Lightest 15.6" Gaming Notebook—the GS60 Ghost Killer, Weapon of Stealth
MSI engineers refine every material and component to maximize the system performance and stay true to portability. MSI GS70 Stealth and GS60 Ghost series feature 5th Generation Intel® Core i7 processor, up to NVIDIA® GeForce GTX 970M series graphics, SteelSeries gaming keyboards, Killer Game Networking, Sound by Dynaudio speaker system and Matrix Display technology. Measuring just 19.9mm thick and weighing 1.9kg, the GS60 Ghost is the world's thinnest and lightest 15.6" gaming notebook. High performance and portability in one pack, MSI GS70 Stealth and GS60 Ghost series laptops are indeed something to behold.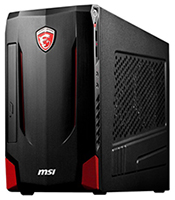 Nightblade MI: the Lean, Mean Gaming Machine
Following the success of the MSI Nightblade, MSI is ready to add a new member to its family: Nightblade MI. The smallest and powerful gaming PC equipped with the latest Intel® Core i7 processor and a full size NVIDIA® GeForce® graphics card for gaming is ready to take on and display the latest PC games in high details.
Enforced with Military Class components inside, the Nightblade MI is set to deliver stable and energy-efficient performance, even in the longest gaming sessions. The all-new MSI Nightblade MI is ready to handle any blockbuster PC game in the highest details and high frame rates.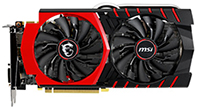 MSI GAMING Series Graphics Cards, the Ultimate Fit for Professional Gamers
MSI GAMING series graphics cards have come along as the ultimate fit for professional gamers! The latest product line is powered by NVIDIA® GTX 900 series GPU and premium Military Class 4 components, altogether ensuring an unmatched performance with low energy consumption, long-period stability as well as overclocking. The award-winning MSI Twin Frozr V thermal design is the pinnacle of graphics card air cooling. With the latest technology of Torx fans, SuperSU pipe, airflow control and Hybrid Frozr, the most silent and cool gaming experience will definitely be provided. The brand new LED illuminated MSI GAMING Dragon allows you to choose from 5 unique modes to set the right ambience for your gaming moments with just one click. To bolster the premium look and feel, selected products come with a solid metal back-plate.
The exclusive MSI Gaming App offers quick access to specific monitor color profiles for games, movies and a special EyeRest mode that reduces blue light for less strain during nightly gaming sessions, and allows gamers to quickly switch between OC, Gaming and Silent modes, depending on their needs. With the perfect combination of both hardware and software, MSI GAMING series is sure to provide an exciting, smooth and silent gaming experience!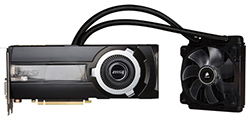 MSI GTX 980Ti SEA HAWK, Superb Stability with Water Cooling
Riding on the huge success of the renowned GAMING series graphics cards, along with the deep rooted innovation DNA, we would like to further extend into water cooling technology by collaborating with Corsair, one of the world's leading providers of enthusiast-grade PC components and peripherals. MSI GTX 980Ti SEA HAWK, the ambitious crossover to join the elite squad of MSI OC series soon, is going to become the most solid safe guard ever for top-tier gamers by providing superb cooling performance. At ChinaJoy 2015, the prototype of MSI GTX 980Ti SEA HAWK will be displayed along with the GAMING series products. Seeing is believing. Be there to experience our cool new gadget!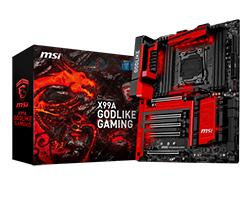 X99A GODLIKE GAMING, One Board To Rule All
MSI X99A GODLIKE GAMING is world's first RGB LED motherboard, supporting more than 2000 colors and many style presets such as breathing, flashing and waving.
The X99A GODLIKE GAMING employs the latest Audio Boost 3 PRO technology to deliver crystal clear sound quality and lossless audio compression. For efficient data transfer, Turbo M.2, Turbo U.2, SATA Express and USB 3.1 Gen 2 are supported. The X99A GODLIKE GAMING also adopts the latest Killer DoubleShot-X3 PRO. Smart teaming with two Killer Ethernet chips and Killer 1535 Wi-Fi module, X99A GODLIKE GAMING can provide up to 2.867Gbps of network bandwidth for hardcore gamers. The Mystic Light, another special feature, lets users easily control the LED light effects with the MSI Gaming APP on OS and the Mystic Light APP on Android mobile devices.
29 years of MSI innovation
MSI is turning 29 this year and is celebrating its anniversary with a variety of exciting events.
As a leading brand in gaming industry, MSI was founded 29 years ago. For the past decades, MSI has achieved a global footprint with sales in over 120 countries and has been recognized with over 10,000 awards from 350 global media. At the core of MSI's innovation remains an unwavering commitment to provide Top Player with Top Choice products. Apart from its partnership with 12 pro-gaming teams around the world, MSI is also an active participant in international gaming tournaments and the host of MSI Masters Gaming Arena (MGA), a world-renowned gaming event. Unanimously acclaimed by gaming enthusiasts and eSports players around the world, MSI is proudly the world's top gaming brand!
Starting in July and running through the coming months, all kinds of celebration events are providing worldwide MSI fans with great opportunities to win awesome prizes and lots of fun in the process. Join us in celebrating the next great era of MSI!
MSI's presence at ChinaJoy 2015
Date: Thursday, July 30 ~ Sunday, August 2, 2015
Venue: Shanghai New International Expo Centre (SNIEC), Shanghai, China
Booth 1: Hall E7, Booth 09-1 (MSI & NVIDIA)
Booth 2: Hall N5, Booth 09 (Blizzard Entertainment)
MSI Facebook:
https://www.facebook.com/MSIHQFANCLUB
MSI GAMING Products:
http://gaming.msi.com
MSI MGA 2015:
http://gaming.msi.com/mga
MSI 29th Anniversary event website:
http://event.msi.com/2015/29th