MSI launched more than 18 models gaming laptop on Intel® 8th Gen Core i9/i7 mobile platform, the latest and most attractive one should be this ultra-slim but powerful notebook, GS65 Stealth Thin. This brand new design gaming notebook from MSI got different design style, the edge shapes ID was outstanding, really different from any other MSI current gaming notebooks, it comes with Diamond cut edge and golden color lines, like no others with Black and Red style. The GS65 Stealth Thin design become more elegant, with a 15.6" 144Hz narrow display in the regular 14" chassis, without numeric keys make this GS65 almost as small as regular 14" notebooks. And the weight got only 1863g, its really light with this kind of SPEC.
The height of GS65 only 17.7mm, even slimmer than a little eclipse mints case!
This GS65 Stealth Thin embedded with Intel Core i7 8750H and GeForce GTX 1070 Max-Q graphics; I think most of the readers want to know if the performance stills as good as the traditional MSI NBs. Before the benchmarks, we take a look on its cooling system. Brand new design of "Cooler Boost Trinity" in smaller and slimmer GS65. 3x 47 blade fans, 4x heatpipes, 2 with larger size to bring more heat. I think this is the BEST cooling solution in a notebook which is under 1.9kg and 17.7mm of height!
More amazing features inside the ultra-slim body!
Let's take a look on GS65 Stealth Thin with Core i7 8750H, it comes with 6 Cores 12 Threads, by 14nm process, designed at 2.2GHz of based clock, but higher boost capability to 4.1GHz (1 Core), with 9MB of L3 cache to get faster access speed, and TDP is 45W. If users need CPU Boost to get higher performance, the TDP might boost up 60W+, but if the power supply and cooling design is weak, the TDP will drop the clock and heat to become 35W with less performance, so that some so called slim notebooks used poor cooling design but lower performance to installed this 8750H CPU inside.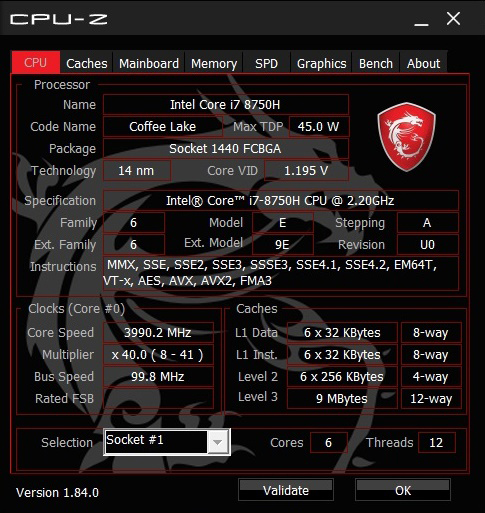 This highest level of GS65 Stealth Thin comes with GTX 1070 graphics, 1TB PCI-E SSD by RAID 0, dual channel of DDR4-2400 32GB RAM and 144Hz/7ms of thin bezel display. With latest Per-Key RGB gaming keyboard, Hi-Res Audio headset DAC, Dragon Center 2 for advanced control and unique Gaming Mode for gamers, much longer battery life that over 8+ hours for all day business usage, It's all new standard of a 15.6" gaming notebook with much elegant exterior shape!
The 3D Mark 11 performance boost over 11% than previous GS63
With the brand new design on GS65 Stealth Thin, it's smaller, slimmer, lighter than GS63, but even a bit more powerful on many phases, we look into the 3D Mark 11 benchmark test, the GS65 of Core i7 8750H runs great with GTX 1070 Max-Q graphics, with MSI Dragon Center 2.0 at SPORT Mode, that made the GE63 Raider RGB bump up to P16161 score. If we compared to other gaming notebooks with i7 7700HQ and GTX 1070 graphics, their average score is around P16500, so GS65 is even faster than previous version of Core i7 7700HQ + regular GTX 1070 graphics. The GS63 with i7 7700HQ and GTX 1070 Max-Q graphics got P14600 score, so the latest GS65 is 10%+ faster than old platform on GS63, that's really fantastic.
Fabulous slight but still gets higher room to boost!
With MSI Dragon Center 2, GS65 got SHIFT control and Gaming Mode for gamers to get higher performance, for example, if runs at TURBO Mode to OC GPU clocks, the 3D Mark 11 got P16849, it's over 13% higher than previous i7 7700HQ + GTX 1070 Max-Q at P14600 scores. GS65 also faster than another new G brand Aero 15 with P15502 score from media review, but Aero 15 was much hotter when tested.
Then we keep SPORT Mode and come to 3D Mark Fire Strike, the GS65 Stealth Thin got 13200+ score, also 11% higher than previous platform around 11900 score.
Higher performance Boost on CinbenchR15 and X264 FHD tests
The quick test on professional usage reference with high level standard must be CineBench R15 program; it shows the CPU on OpenGL performance got 108.07fps, and CPU Multi-Core got 1125cb, even same performance as bigger size notebooks with Core i7 8750H, also 51% faster than the GE63VR with i7 7700HQ CPU at 743cb. This performance showed that 6C12T CPU rendering performance is 50% faster than 4C8T CPUs, that's really very important to the professional users and art designers.
Core i7 8750H also much faster on video transcoding, the X264 FHD Benchmark showed that GS65 Stealth Thin could keep full throttle of the CPU performance on any usage, 36fps was even a bit faster than my previous test on GE63 Raider RGB. It's 42% faster than LAST Gen. of GS63 Stealth with i7 7700HQ and GTX 1070 Max-Q!
The GS65 Stealth Thin designed with 2 PCI-E SSD slots, no HDD port, so this model comes with 1TB capacity with NVMe SSD RAID 0 combination. They use SAMSUNG PM961 SSDs to combine the storage. Read speed is 3533.8MB/s, Write speed also boost up to 3452.5MB/s, that's really fantastic performance to squeezed all the PCI-E bandwidth out and more power saving than HDD storage.
The Last but also the most improved value, 8+ hours of battery life!
Most of the gaming notebooks got shorter battery life due to the heavy loading works, high watts on CPU and GPU design, more powerful cooling and power eater display, that made the gaming notebooks could only be used for 2~3 hours in average, but this time, GS65 Stealth Thin break through the limitations in the smaller chassis. When I tested the PC Mark 08 with balanced mode, the working battery life was amazingly up to 6h 59min; that means this spectacular gaming notebook is able to make office works or video playback more than 8 hours easily, that's great news for the workers or high mobility power users!
Conclusion on the GS65 Stealth Thin overall Improvement
When people see the GS65 in the market, they might only think about smaller, lighter, and looks better, but after all the benchmarks, you guys could find out this notebook is fantastic on overall performance, thin bezel 144Hz display, great keyboard, and best of the best, over 6~8 hours working time! I did try the 720p video playback more than 9 hours.
Consider to these great improvements, the burn-in test on GS65 Stealth Thin was also great quality, the highest temp. on keyboard side was under 45°C, and it's under SPORT Mode with AUTO fan control by Dragon Center 2, the fan noise only got 49.2dBA, "Cool & Quiet" seems impossible, but GS65 made it with really high performance and high standard of the design, I would like to say GS65 Stealth Thin is the ART OF SLIM GAMING LAPTOP to impact the market in 2018 for gamer and pro users for a while!